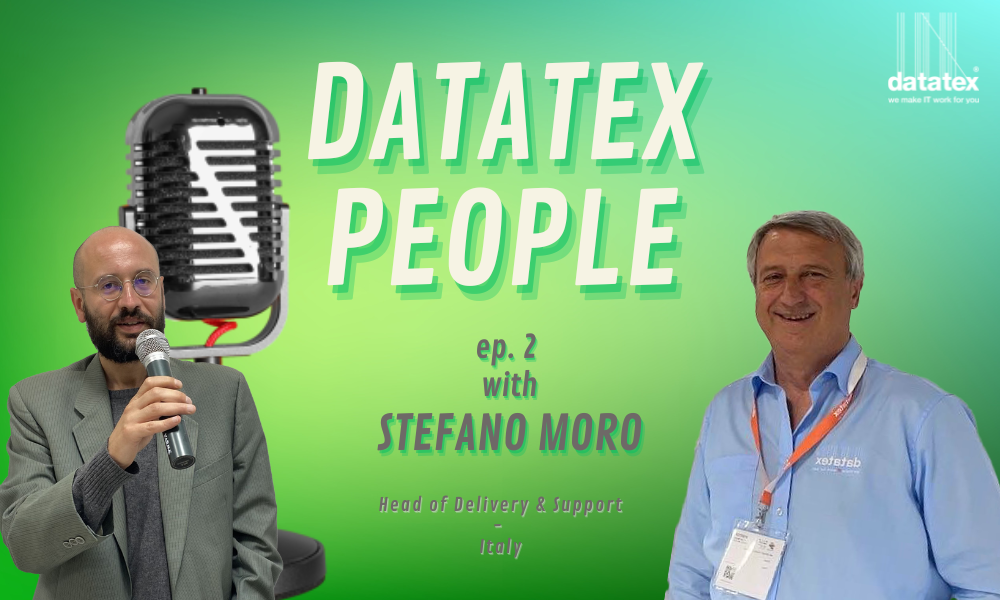 Interview with Stefano Moro (Head of Delivery & Support, Italy)
Edited by Luigi Torriani and Elisa Graziola
ENG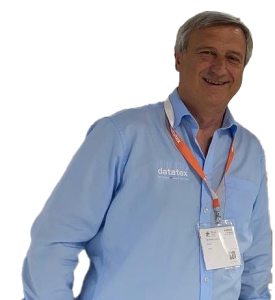 Hello, how would you like to introduce yourself to the readers of Datatex Magazine? Who are you? What are your hobbies and passions? When did you join Datatex?
I'm Stefano Moro, I've been with Datatex since the company was founded (in 1987) and I'm one of the managers of the Italian branch of the group, with the role of Technical Director of Datatex Italy.
My hobbies are cycling, fishing and football.
For more than thirty-five years you have been in direct and daily contact with the most important Italian textile companies, you have a long experience in the sector and you know very well the specific problems of this important sector of Made in Italy production. What are the needs of Italian textile entrepreneurs and managers today? From an IT point of view, what are the main needs that arise in the daily work of your team?
There is an underlying concept that drives the demands of the Italian textile world, a concept that can be summed up in one word: uncertainty. Datatex, as a software house specialized in this sector, tries to provide adequate answers to the need of companies to reduce the margins of uncertainty, to manage as much as possible the unpredictability that characterizes the markets in this historical phase and to always have the situation under control.
A key point concerns the volatility of raw material and energy costs and, more generally, production costs. In this respect, the large short-term fluctuations faced by decision-makers require continuous and rapid updating of price lists in order to avoid either selling prices that are too high (which would lead to a loss of market) or, of course, selling prices that are too low (which would erode margins).
In this context, Italian textile companies are increasingly asking for reliable and innovative software solutions – and Datatex is doing its best every day to meet these demands – for calculating actual costs, simulating planned costs, planning and scheduling (which play a key role), but also for budgeting and forecasting, because it is no longer possible to rely only on historical data and on the previous year's sales and production, but it is increasingly necessary to take into account the elements of unpredictability of the market (think, for example, of the current extreme difficulties in exporting to some foreign markets, such as Russia). Datatex is always "at the ready" to provide answers to these needs.
NOW ERP, Datatex's proprietary solution, is now the world's best-selling vertical management software for the textile industry and is becoming increasingly successful in Italy. What do you think are the strengths of the product and the reasons for its success?
We could talk endlessly about the technical features of NOW and the reasons for its well-deserved success in the market, but I'll try to keep it short and sweet: On the one hand, NOW ERP is superior to competing products from local vertical software houses because it is international, has customers all over the world, and has a global reach that certain solutions sold only in Italy do not have; on the other hand, NOW ERP is superior to ERPs from the usual well-known multinational IT giants because it has a native and deep specialization in the world of textile production that no verticalization of these well-known ERPs will ever have; in addition, Datatex has a team with such a textile-specific background that is unmatched by any competing software house.
ITA
DATATEX PEOPLE ep.2
Intervista con Stefano Moro (Direttore Tecnico Datatex Italia)
Ciao! Come vuoi presentarti ai lettori del Datatex Magazine? Chi sei? Quali sono le tue passioni e i tuoi hobby? Quando hai iniziato a lavorare in Datatex?
Sono Stefano Moro, lavoro in Datatex fin dalla fondazione dell'azienda (nel 1987) e sono uno dei dirigenti della sede italiana del Gruppo, avendo il ruolo di Direttore Tecnico di Datatex Italia.
I miei hobby sono il ciclismo, la pesca e il calcio.
Da oltre trentacinque anni sei a contatto diretto e quotidiano con le più importanti aziende tessili italiane, hai una lunga esperienza nel settore e conosci molto bene le problematiche specifiche di questo importante ambito della produzione Made in Italy. Cosa chiedono oggi gli imprenditori e i manager tessili in Italia? Dal punto di vista informatico quali sono oggi le esigenze primarie che emergono nel lavoro quotidiano del tuo team?
C'è un concetto di fondo che guida le richieste del mondo tessile italiano, un concetto che si può riassumere in una parola: incertezza. Datatex, come software house specializzata nel settore, cerca di dare risposte adeguate al bisogno che gli imprenditori hanno di ridurre i margini di incertezza, di governare il più possibile l'imprevedibilità che caratterizza i mercati in questa fase storica e di avere sempre sotto controllo la situazione.
Un punto fondamentale riguarda la variazione dei costi delle materie prime e dell'energia e – più in generale – dei costi di produzione. Su questo fronte le grandi oscillazioni di breve periodo che i decisori si trovano a dover affrontare richiedono un continuo e rapido aggiornamento dei listini, per evitare di uscire sia con prezzi di vendita troppo alti (che porterebbero a una perdita di mercato) sia – ovviamente – con prezzi di vendita troppo bassi (che andrebbero ad erodere il margine).
In questo contesto le aziende tessili italiane chiedono crescentemente – e Datatex cerca quotidianamente di soddisfare al meglio queste richieste – delle soluzioni software al tempo stesso affidabili e innovative per i calcoli dei costi consuntivi, per la simulazione dei costi preventivi, per la pianificazione e la schedulazione (che assumono un ruolo centrale), e anche per il budgeting e il forecasting, perché ormai non è più possibile basarsi soltanto sui dati storici e sul venduto e sulla produzione dell'anno precedente ma occorre tenere conto sempre di più degli elementi di imprevedibilità del mercato (pensiamo anche – per esempio – alle estreme difficoltà attuali nell'export su alcuni mercati esteri, come la Russia). Datatex è sempre "sul pezzo" per dare risposte a queste esigenze.
NOW ERP, soluzione proprietaria di Datatex, è oggi il gestionale verticale per il settore tessile più venduto nel mondo e anche in Italia ha un successo crescente. Quali sono secondo te i punti di forza del prodotto e le ragioni del suo successo?
Potremmo parlare all'infinito delle caratteristiche tecniche di NOW e delle ragioni del suo meritato successo sul mercato, ma provo a far capire il concetto in estrema sintesi: NOW ERP da una parte è superiore ai prodotti concorrenti di software house verticali locali perché è internazionale, ha clienti in tutto il mondo e ha un respiro mondiale che certe soluzioni vendute soltanto in Italia non possono avere; dall'altra parte NOW è superiore agli ERP dei soliti noti giganti multinazionali del settore IT perché ha una specializzazione nativa e profonda per il mondo della produzione tessile che nessuna verticalizzazione di quei noti ERP potrà mai avere; e inoltre Datatex ha un team con una tale preparazione tessile specifica che non ha eguali presso nessuna software house concorrente.