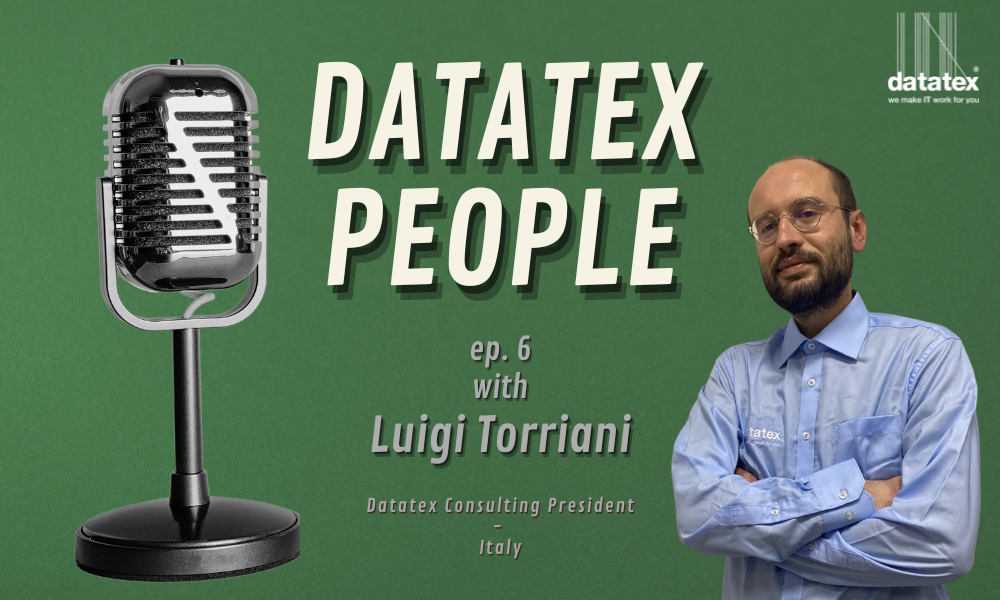 Interview with Luigi Torriani (Datatex Consulting President – Italy)
Edited by Luigi Torriani and Elisa Graziola
ENG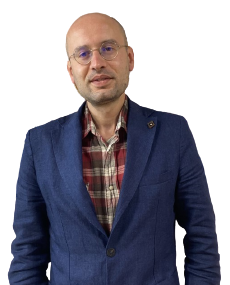 Hello! How would you like to introduce yourself to the Datatex Magazine readers? Who are you? What are your passions and hobbies?
My name is Luigi Torriani, I am a partner in the company and President of Datatex Consulting, the Italian company of the group. My passions are: books (I am also the owner of a bookstore near Lake Como); movies (one name above all: Alfred Hitchcock); music (especially rock and metal); cooking (especially fish, shellfish and crustaceans); and walking in the hills of the Larian Triangle.
When did you start working at Datatex? What do you remember about when you started working with us and the first year you worked here?
Datatex has always been a part of my life, as my father – Franco Torriani – was one of the founders of the company in the 1980s.
I have been working at Datatex since 2015 and what I remember most from the first days I arrived in the office is the great experience and expertise of the managers and historical figures of the company, who taught me so much and impressed me even then with the depth and breadth of their knowledge of the IT world and IT solutions for the textile industry. I'm not a technician, I'm a person with a vocation related to the business and marketing world, and that's why I have a special admiration for pure technicians and people who have precise skills and vertical expertise in a field.
What do you appreciate most about your job and what are – in your opinion – the positive features and strengths of the Datatex world?
I do what I am good at and what I like to do, which is to say, on the one hand, I deal with aspects related to marketing and communication – editing our company magazine, Datatex Magazine, which is also printed and distributed and appreciated by textile companies all over the world – and, on the other hand, I deal with issues related to my role as Chairman of the Board of Directors and Legal Representative, in synergy with the company's CFO, Francesco Vigevani.
Datatex's great strength lies in the solidity of the company's reputation, a solidity that has been built over the years and that has few equals in the IT world, because it is based on the strength of our flagship product – NOW ERP – and the expertise of our people. In the marketplace, of course, Datatex – like all companies in the world – sometimes wins and sometimes loses in negotiations, sometimes wins and sometimes loses in software selection. But it never happens that a prospect chooses one of our competitors over us because they did not like the Datatex proposal from a content quality point of view. When we lose negotiations, we lose them because a company chooses either a lower-end, less expensive product or a product associated with global IT giants. But the very high quality of our NOW ERP software and the extreme seriousness and reliability of the people working at Datatex are never questioned by anyone.
From a professional point of view, what has been the most important moment, and what has been the most significant accomplishment, that you have achieved since working at Datatex? Would you then also like to tell us a curious or funny story regarding Datatex?
The most important moment, and at the same time the most significant result achieved, is undoubtedly related to the entry of Elvaston Capital Management GmbH as majority shareholder of Datatex on September 13, 2023. The entry into Datatex of a major investment fund such as Elvaston, which has invested heavily in this operation, is on the one hand a confirmation of the high value of Datatex (the brand, the products and the people) and on the other hand the basis for the further expansion of the Datatex Group, which already has customers in 45 countries and offices in ten countries and which, in synergy with other software houses and in partnership with Elvaston, is creating what will become, in a few years, the great international IT holding company for the textile industry.
IT
DATATEX PEOPLE ep.6
Intervista a Luigi Torriani (Presidente Datatex Consulting, Italia)
Ciao! Come vuoi presentarti ai lettori del Datatex Magazine? Chi sei? Quali sono le tue passioni e i tuoi hobby?
Sono Luigi Torriani, sono socio dell'azienda e sono Presidente di Datatex Consulting, la società italiana del Gruppo. Le mie passioni sono: i libri (sono anche titolare di una libreria vicino al Lago di Como); i film (un nome su tutti: Alfred Hitchcock); la musica (specialmente rock e metal); la cucina (soprattutto pesci, molluschi e crostacei); le passeggiate sulle colline del Triangolo Lariano.
Quando hai iniziato a lavorare in Datatex? Cosa ricordi di quando hai cominciato a lavorare con noi e del primo anno di lavoro?
Datatex è da sempre parte della mia vita perché mio padre – Franco Torriani – è stato uno dei fondatori dell'azienda, negli anni Ottanta.
Dal 2015 sono operativo in Datatex e quello che ricordo maggiormente, dei primi tempi che venivo in ufficio, è la grande esperienza e competenza dei manager e delle figure storiche dell'azienda, che mi hanno insegnato tante cose e che già ai tempi mi colpirono favorevolmente per la profondità e ampiezza delle loro conoscenze relative al mondo IT e alle soluzioni informatiche per l'industria tessile. Non sono un tecnico, sono una persona con una vocazione legata al mondo commerciale e al marketing e proprio per questo ho una particolare ammirazione per i tecnici puri e per le persone che hanno delle precise abilità e delle competenze verticali in un settore.
Cosa apprezzi maggiormente del tuo lavoro e quali sono – secondo te – le caratteristiche positive e i punti di forza del mondo Datatex?
Faccio quello che so fare e che mi piace fare, e quindi mi occupo da una parte di aspetti relativi al marketing e alla comunicazione – e dirigo la nostra rivista aziendale, Datatex Magazine, che viene anche stampata in edizione cartacea ed è distribuita e apprezzata tra gli imprenditori tessili in tutto il mondo – e dall'altra parte mi occupo di questioni relative al mio ruolo di Presidente del Cda e legale rappresentante, in sinergia con il CFO dell'azienda, Francesco Vigevani.
Il grande punto di forza di Datatex sta nella solidità della reputazione aziendale, una solidità costruita negli anni e che ha pochi eguali nel mondo IT perché si basa sulla forza del nostro prodotto di punta – NOW ERP – e sulla competenza delle nostre persone. Sul mercato ovviamente Datatex – come tutte le aziende di questo mondo – talvolta vince e talvolta perde le trattative, talvolta prevale nelle software selection e talvolta no. Ma non succede mai che un prospect scelga un nostro concorrente anziché noi perché non ha apprezzato – dal punto di vista della qualità dei contenuti – la proposta di Datatex. Quando perdiamo delle trattative le perdiamo perché un'azienda sceglie o un prodotto di fascia più bassa e meno costoso oppure un prodotto legato a colossi mondiali del settore IT. Ma l'altissima qualità del nostro software NOW ERP e l'estrema serietà e affidabilità delle persone che lavorano in Datatex non vengono mai messe in dubbio da nessuno.
Dal punto di vista professionale qual è stato il momento più importante, e quale il risultato più significativo, che hai raggiunto da quando lavori in Datatex? Vuoi raccontarci poi anche un aneddoto curioso o divertente riguardante la Datatex?
Il momento più importante, e insieme il risultato più significativo raggiunto, è sicuramente legato all'ingresso in Datatex – come azionista di maggioranza – di Elvaston Capital Management GmbH, in data 13 settembre 2023. L'ingresso nel capitale di Datatex di un importante fondo di investimento come Elvaston, che ha investito molto in questa operazione, da una parte rappresenta la conferma dell'alto valore di Datatex (del marchio, dei prodotti e delle persone) e dall'altra costituisce la base per un'ulteriore espansione del Gruppo Datatex, che già oggi ha clienti in 45 Paesi e uffici in dieci nazioni e che – in sinergia con altre software house e in partnership con Elvaston – sta dando vita a quella che diventerà nel giro di pochi anni la grande holding informatica internazionale per l'industria tessile.