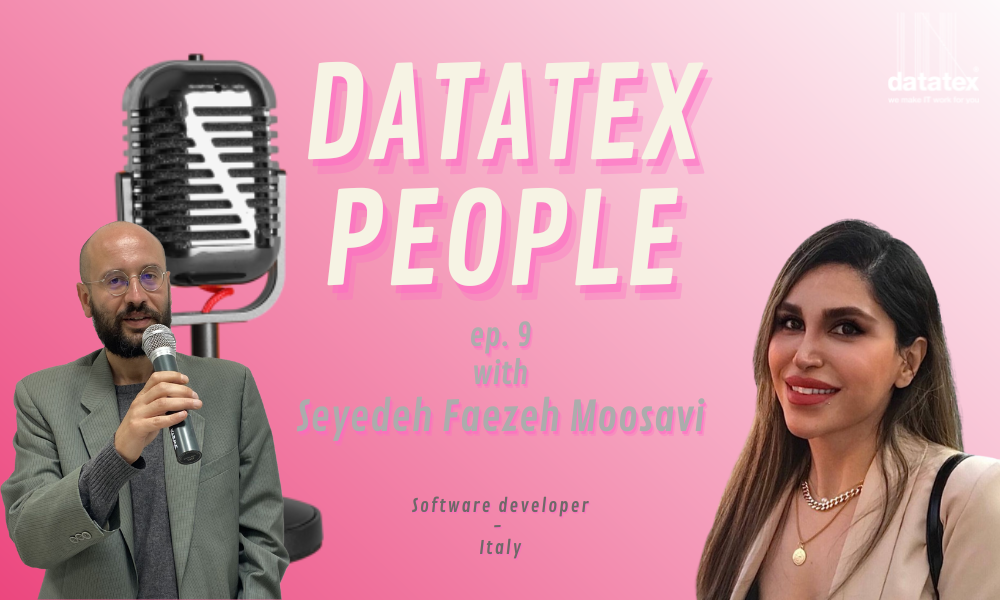 Interview with Seyedeh Faezeh Moosavi (Software Developer – Datatex Italy)
Edited by Luigi Torriani and Elisa Graziola
ENG
Hello! How would you like to introduce yourself to the Datatex Magazine readers? Who are you? What are your passions and hobbies?
Hello. I'm Seyedeh Faezeh Moosavi. I am a software Developer in Datatex company. I am an Iranian with a diverse background in both Electronic Engineering and Financial Management. My journey in the corporate world began as a project consultant, where I specialized in the production of power panels for industries.
The evolution of my career took an exciting turn when I delved into areas such as project management and programming languages like Python and JavaScript. This exploration ignited a passion for the tech sector, prompting me to further my studies in Industrial Automation Engineering upon moving to Italy in 2020.
Beyond the professional realm, I find joy in a variety of hobbies. I'm an avid reader, a movie enthusiast (watching movies is a daily ritual for me), a yoga practitioner, and a fitness enthusiast. What truly fuels my spirit, though, is the opportunity to embark on journeys and explore new cultures and communities. It's through these experiences that I believe we truly broaden our horizons and gain a richer perspective on life.
When did you start working at Datatex? What do you remember about when you started working with us and the first year you worked here?
I joined Datatex around six months ago. It's my first job in Italy, and I was really excited because it marked a fresh start for me – new job, new sector, and a chance to work in my third language.
Starting out, I remember feeling a mix of anticipation and eagerness. My colleagues were welcoming, and I enjoyed the challenge of diving into a role that matched both my skills and my interest in industrial automation.
Looking back over these past six months, itìs been a learning journey. I appreciate the supportive atmosphere at Datatex, helping me adapt to the company and the Italian work environment. I'm looking forward to more growth and collaboration ahead.
What do you appreciate most about your job and what are – in your opinion – the positive features and strengths of the Datatex world?
I really like that my job at Datatex gives me a chance to get better at what I do. Datatex is a strong company and has some really perfect things going for it. The company's strength make it a place where new ideas and working together are encouraged. The good support and resources available here help me and my colleagues face challenges and try new things in our jobs.
One thing I especially like is that Datatex cares about helping us learn and grow. They keep us updated on the latest trends and technologies in our field, making it a fantastic place for anyone who wants to make a difference in this sector.
From a professional point of view, what has been the most important moment, and what has been the most significant accomplishment, that you have achieved since working at Datatex? Would you then also like to tell us a curious or funny story regarding Datatex?
One of the most important moments in my professional journey at Datatex was the completion of my first project. It stands out as a significant accomplishment that marked not only a successful deliverable but also a culmination of dedicated effort and teamwork.
Completing that project was a defining moment for me, underscoring the practical application of my skills and the collaborative spirit within the Datatex team. It reinforced my sense of belonging and purpose within the company, showcasing the real-world impact we can make in this field.
PER
DATATEX PEOPLE ep.9
گفتگو با سیده فائزه موسوی (برنامه نویس – دیتاتکس ایتالیا)
سلام! چطور دوست دارید خودتان را به خوانندگان مجله Datatex معرفی کنید؟ کی هستید؟ علایق و سرگرمی‌های شما چی هستند؟
سلام،  سیده فائزه موسوی هستم، یک برنامه نویس در شرکت Datatex . من یک ایرانی هستم با سوابق متنوع در مهندسی الکترونیک و مدیریت مالی. سفر من در دنیای کاری به عنوان یک مشاور پروژه آغاز شد، جایی که در تولید پانل های الکتریکی برای صنایع تخصص پیدا کردم.
تکامل حرفه‌ای من زمانی که به کدنویسی با زبان‌های مانند Python و JavaScript  پرداختم و در زمینه‌های مدیریت پروژه فعالیت‌های بیشتری داشتم تغییری هیجان‌انگیز داشت. این اکتشاف شور و اشتیاق من را برای بخش ورود به حوزه تکنولوژی برانگیخت و باعث شد که پس از مهاجرت به ایتالیا در سال 2020، تحصیلاتم را در مهندسی اتوماسیون صنعتی ادامه دهم.
فراتر از قلمرو حرفه ای از سرگرمی‌های مختلفی لذت می‌برم. ، تماشای فیلم, خواندن کتاب, یوگا کردن و ورزش کردن سرگرمی های من هستند. اما واقعاً، انرژی مثبت زندگی من از فرصت برای سفر و کاوش در فرهنگ‌ها و جوامع جدید تأثیر می‌پذیرد. اعتقاد دارم که از این تجارب به واقعیت‌ها و دیدگاه‌های زندگی کمک بزرگی خواهد کرد.
ز چه زمان در Datatex کار کردن را شروع کردید؟ چه چیزی را به یاد دارید از زمانی که به کار ما پیوستید و اولین سال کاری خودتان را در اینجا گذراندید؟
حدود شش ماه پیش به تیم Datatex پیوستم. پیوستن به Datatex نشانه مهمی برای من بود، چرا که نه تنها شروع فصل جدیدی در حرفه‌ام را نشان می‌دهد، بلکه نمایانگر اولین تجربه من در بازار کار ایتالیا بود. این امکان که در یک حوزه جدید کار کنم و به چالش کشیدن خودم با سومین زبانم در محیط کار، احساس هیجان می‌کردم.
ماه‌های اول در Datatex یک ترکیب پویایی از یادگیری، سازگاری، و مشارکت در تیم پرانرژی بود.  اولین روزها برای من با انتظارات پر شور، خوشحالی همکاران و لذت از چالش فراوان در آشنایی با نقشی که هم با تخصصم سازگار بودم و هم با علاقه‌ام به این حوزه طی شد.
در حالی که به این نیمه سال گذشته فکر می‌کنم، از محیط حمایت‌آمیز Datatex سپاسگزارم که من را یاری کرده است تا در محیط شرکت و محیط حرفه‌ای این کشور سازگار شوم. این تجربه برایم سودمند بوده است و من با شوق به ادامه رشد و همکاری در ماه‌ها و سال‌های آینده نگاه می‌کنم.
از کار خود چه چیزی را بیشترین ارزش می‌دهید و به نظر شما ویژگی‌ها و نقاط قوت مثبت دنیای Datatex چیست؟
کی از جوانب مهم برای من فرصت بهبود مداوم حرفه‌ای من است و Datatex نقش اساسی در یاری‌رساندن به این مسیر دارد. به عنوان یک شرکت بزرگ و قوی، Datatex محیطی فراهم می‌کند که من می‌توانم مهارت‌ها و تخصص خود را در این حوزه ارتقاء دهم.
ویژگی‌ها و نقاط قوت مثبت دنیای Datatex واقعاً قابل ستایش هستند. اندازه و قدرت شرکت یک محیط پویا ایجاد می‌کند که نوآوری و همکاری در آن به خوبی جواب می‌دهد. زیرساخت قوی و منابع موجود به محیط حمایتی کمک می‌کنند که من و همکارانمان بتوانیم با چالش‌ها روبرو شویم و مرزهای حوزه‌های کاری‌امان را گسترش دهیم.
علاوه بر این، تعهد Datatex به تشویق فرهنگ یادگیری و توسعه به شکل کامل با آرزوهای من همخوانی دارد. تاکید بر اینکه پیشرو در فناوری‌های صنعتی باقی بمانیم، تجربه حرفه‌ای را ارتقا می‌دهد و Datatex را به عنوان یک پلتفرم ایده‌آل برای هر کسی که می‌خواهد در این حوزه تأثیرگذار باشد معرفی میکند.
از نقطه نظر حرفه ای، مهم ترین لحظه و مهم ترین دستاوردی که از زمان کار در Datatex به دست آورده اید، چه بوده است؟ آیا می خواهید یک داستان کنجکاو یا خنده دار در مورد Datatex برای ما بگویید؟
یکی از مهمترین لحظات در سفر حرفه ای من در Datatex، تکمیل اولین پروژه من بود. این به عنوان یک دستاورد مهم که نه تنها یک تحویل موفق را نشان می دهد، بلکه اوج تلاش و کار تیمی اختصاصی را نیز نشان می دهد.
تکمیل آن پروژه برای من لحظه ای تعیین کننده بود که بر کاربرد عملی مهارت های من و روحیه همکاری در تیم Datatex تاکید می کرد. این حس تعلق و هدف من را در شرکت تقویت کرد و تأثیر دنیای واقعی ما را در این زمینه نشان داد.