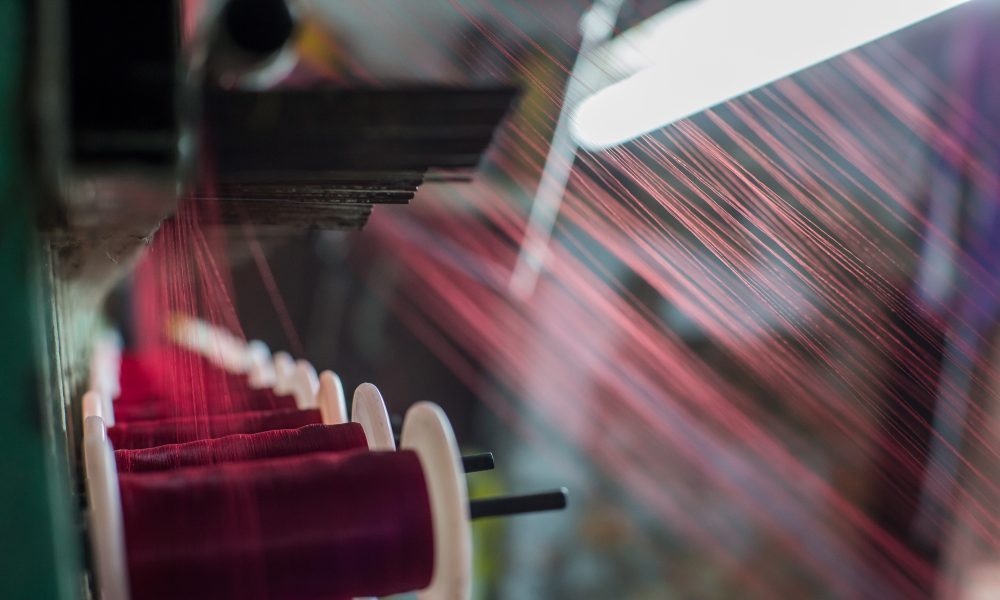 Interview with Gurudas Aras – Strategic Business Advisor to APS GmbH (Germany), Rossari Chemicals Ltd., Rabatex Industries and Yamuna Machine Works
Edited by L.Torriani and M.Guzzinati
The textile sector, after the agricultural sector, represents the oldest and most important industrial sector in India. What are the characteristics and historical strengths that have allowed Indian textiles to conquer a leadership role at an international level? What are the elements of innovation that have characterized the evolution of the sector in recent years?
Textile industry is one of the oldest industries in India dating back to the British era. It's a very important sector in terms of employment and export potential. After agriculture, the textile sector comes only next in providing employment. More than 45 million people are employed directly and indirectly. Today India has 5.5% share of the global textile trade. India has 28% share in cotton production and is one of the leading countries producing cotton goods. It is the 2nd largest man-made fiber producer in the world , next only to China while it is the 2nd largest exporter of textile commodities as well.
Due to self-sufficiency in all kinds of raw materials, both natural and man-made, availability of labor at reasonable cost and continued investments in modernizing the production capacities, India has secured a quite dominant position in the global textile trade. India is in an advantageous position to leverage its strengths and increase its global share by taking advantage of the emerging opportunities due to change in the geopolitical situation post Pandemic. India has done very well in textile made ups and home textiles but has missed the bus in apparel on the global stage due to smaller capacities and fragmented value chain. However, in the last decade with the help of government's various schemes like TUFs (Technology Upgradation Fund Scheme), industry has been fairly modernized and hence the quality of the products also improved considerably. The infrastructure and logistics had been the major bottlenecks for the industry in the  past decades but with the government now focusing on building the infrastructure, the situation is improving much faster on this front.
With support from government through various schemes, India is now focusing more on manufacturing of man-made fiber-based products and technical textiles. Since majority of the global trade happens in manmade fiber based products, now India has a better chance to improve its position by diversifying the product basket , which earlier used to be more cotton oriented. The industry is seriously investing in latest technology, digitization, automation and product innovation which will go a long way in improving India's position as a low cost, quality supplier. Indian manufacturers are now trying to move up the value chain through product innovation and quality enhancement.
Which are the most influential textile production centers and districts in India? What are the situations of excellence and the most successful production specializations today?
The textile value chain in India is spread across the country and that is adding to the logistical costs for Indian manufacturers. For example, cotton in grown in the states like Gujarat, Maharashtra, Madhya Pradesh and Andhra Pradesh while more than 45% of spinning capacity is in the state of Tamilnadu which hardly produces cotton.
The weaving centers are mainly located at Maharashtra (Ichalkaranji, Bhiwandi), Gujarat (Ahmedabad, Surat) while knitting industry is located mainly at Tirupur (Tamilnadu,) Surat (Gujarat) and Ludhiana (Punjab). The processing industry is mainly located at Ahmedabad & Surat in Gujarat, Erode, Coimbatore and Tirupur in Tamilnadu. Surat is a synthetic hub producing woven, knitted and warp knitted synthetic goods. Its famous for its sarees and dress materials. The apparel industry is spread over the country at various places like Delhi, Ahmedabad, Tirupur (knitwear), Bangalore, Ludhiana (knitwear), Jaipur (traditional textiles).
Some big corporate houses (Welspun, Trident, D'Decor, Himatsingka, Premier Mills, KG Mills etc.) have built a very strong dominance in home textile manufacturing over the last decade and they are few of the biggest exporters in the world in sheeting, terry towels and other made ups. Indian products in this segment are dominating in the US and EU markets due to product design, innovation and state of the art manufacturing facilities.
The excellence achieved by the home textile industry now needs to be replicated by the garment industry and make garment as India's growth engine like China, Vietnam and Bangladesh. In denim as well Indian companies have established a very strong position and Indian denim products enjoy good share of the global market, especially the companies like Arvind mills, LNJ denim, KG group, Suryalakshmi and Raymond Denim have established strong denim product lines with excellent quality and lot of product innovation.
Technical textile is another emerging sector and in order to give developmental support to the industry, government had established 'Center of Excellence' for each vertical of technical textiles with the help of leading textile research institutes, which effort is helping the industry in developing many import substitute products. In the years to come India will be one of the top manufacturers in technical textiles.
What impact has the international crisis caused by Covid on the world of Indian textile production? What were the difficulties and problems? How the textile industries of India tried to cope with the unexpected situation?
The Covid crisis affected the Indian textile industry severely. The already ailing industry had to shut down the operations due to complete lockdown for more than 3 months. Also, there was massive labour migration which impacted the industry for a very long time. Companies were short of cash and liquidity problem became very severe then. Many small and medium scale industries (MSME) could not reopen due to severe financial impact. Government declared a big financial package for the industry for its survival which surely helped the industry to some extent.
The grim situation continued till December 2020 after the 1st Covid wave. The industry just started to recoup and come back when the 2nd wave started around March 2021 affecting the manufacturing sector badly. Somehow the stronger players took lesser time to bounce back. The pent up demand helped in boosting the industry morale resulting into returning back partially to normalcy in production around August/September 2021. Apart from the robust local demand for the textile goods post the 2nd wave, India really got into an advantageous situation on the global platform. Due to the change in the geopolitical situation post Covid time, the buyers started looking for an alternative to China. The China+1 policy helped India alongside Vietnam and Bangladesh. India started ramping up the capacities in garments. Due to increased consumption of home textiles (frequent replacements of bedsheets and towels) in Covid times, India's exports of home textiles to US and EU market grew considerably.
India is now preparing itself to become a manufacturing hub targeting to take some share from China and for that the government has declared schemes such as Atmanirbhar Bharat/Make in India, PLI (Production Linked Incentive Scheme) and MITRA (Fully integrated textile parks) to attract investments in manufacturing. These initiatives will go a long way in increasing India's competitiveness in the textile world and will push India up the value chain sooner than later. However, at present the Indian textile industry is facing a serious issue of increase in raw material prices and other input materials over and above huge increase in fossil fuel cost (Coal, diesel etc.). This is likely to impact the competitiveness of the industry in the short term as there is hardly any possibility to pass on the price increase to the final commodity product.
Datatex is present in India, with its branch in Bangalore (Verodatatex), which follow closely Indian textile companies in terms of digital innovation and concerning investments in the ERP part. How do you see today, from an IT point of view, the situation of the textile industry in India? Do you think there will be many investments on this front in the coming years?
India has been quite slow in adopting digitization and automation over the last decade. However now there is growing realization that there is no alternative but to do catch up game if the manufacturing has to become more efficient, productive and competitive. The engineering and automobile industry has shown better initiative in gradually moving towards Industry 4.0 with adoption of automation, Robotics, IoT (Internet of Things) and AI (Artificial Intelligence) etc. in manufacturing processes. To that extent, textile industry, being more traditional, had remained complacent for years.
However, in my opinion, the time has come for the industry to seriously look at digitization and look at ways and means to adopt best global practices in manufacturing processes. I am clearly seeing keen interest of the new generation, now taking over the textile businesses, to adopt to Industry 4.0 in manufacturing through automation, digitization and system integration. The IT infrastructure in the industry is also getting upgraded very fast as most of the textile machines are now more based on software and programming than mechanical or electrical based.
Most of the machines are today IoT enabled while same use AI and Machine Learning as well. In my opinion therefor ERP will also assume much critical importance and hence Datatex will have lot of opportunities to work together with the system integrators and implementors in the digitization initiative.
I am a Strategic Advisor (India) for a leading German company from ITA group which works on digitization and Robotics and I see lot of interest in the industry to discuss about what all can be done in this area to remain relevant in today's digital world. The basic understanding about digitization and Industry 4.0 is quite low in the textile industry and in a way, it will be a challenge to drive the digitization initiative across the industry.
However, the younger generation, now leading many textile companies, is showing very keen interest to understand the gaps in IT infrastructure and digitization and find out ways to invest in right technologies in order to get aligned to this new digital world. I therefore think that Datatex too will have many opportunities in India in the years to come. The Indian textile industry is right now at an inflection point and with continued investments in capacity creation, upgradation of plant & machinery and digitization, the growth will be phenomenal in the years to come.
India should aim for its right place on the global textile map with at least 10% share of the global textile trade and that will unleash huge opportunities for Indian textile manufacturers and satellite industries like textile machinery, dyes and chemicals and other consumables. It will also open up doors of opportunities for IT and digital product and service providers like Datatex and many other companies operating in this field.
The past was challenging, present is good but the best is yet to come for the Indian textile industry, in my opinion.