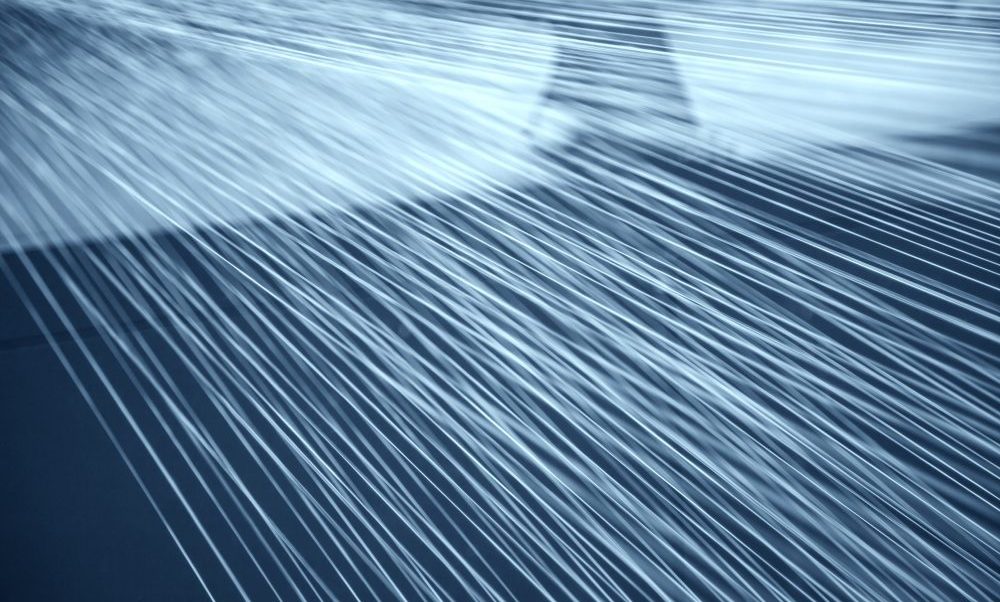 Interview with Mr S. P. Oswal – Chairman and Managing Director – Vardhman Group.
Edited by Luigi Torriani and Costanza Pol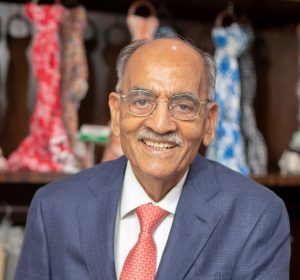 VARDHMAN GROUP – A large Indian textile company founded in 1965, headquartered in Ludhiana (Punjab – India), Vardhman Group produces and exports fabrics and yarns all over the world. At present, it counts over 27 thousand employees, has a turnover of more than a billion dollars, produces 240 million metric tons of yarn, weaves over 220 million metres and processes 180 million metres of fabric every year, and is a pioneer for 'Better Cotton Initiative'.
You have been successfully present in the world of the textile industry for more than fifty years, and you are a historic company in India. How important for you is the relationship with territory? What initiatives do you carry out for your employees and to enhance and support the areas in which you have production plants?
Vardhman has 18 units spread across India besides two offices in international locations. We are strategically positioned to serve the customer demands in an effective, cost-efficient and competitive way. Having several manufacturing units in Punjab, Himachal Pradesh, Madhya Pradesh and Gujarat offers us the proximity to raw material, accessibility to global markets and well-networked supply chain besides a robust back-up mechanism to deal with force majeure situations. We are one of the oldest names in the Indian Textile Industry and have stood tall in the face of challenges as also the shifting market dynamics, owing to a high degree of flexibility, agility and efficiency. India is one of the largest producers of cotton and has the world's largest youth population. This means we have a dual advantage in terms of skilled workforce as well as ease of logistics. At the same time, this brings to us the responsibility to cater to this un-taped pool of human resource and transform young and trainable brains into skilled professionals.
As one of the most valuable assets, our employees are our prime-movers who help us scale greater heights. We invest time and resources to ensure their holistic growth. The prosperity and well-being of our employees is our foremost responsibility. We work towards the development of the employees working with us as well as the community around our manufacturing plants. We foster an atmosphere of trust, ownership and learning. Not only we conduct regular safety audits and ensure the use of PPE by the employees, but we also invest in training more and more people to deal with local emergencies. Regular workshops are carried out to promote continuous learning and development among the employees besides ensuring participation in Quality Circles. Our QC teams have won Gold at International Conventions more than once, despite the fact that they don't come from English Speaking educational background, and many of them have not even completed formal education. We also organize health check-up camps, blood donation drives, sports events along with appreciation programs such as Karamveer Awards. Not just that, for continual improvement and opportunity to grow professionally, we offer training sessions such as PACE – Personal Achievement and Career Enhancement program (in association with GAP) wherein we emphasise on strengthening the women workforce. Vardhman Training and Development Centre (VTDC) and Manav Vikas Kendra are other flagship training programs undertaken by our employees. At the same time, we work towards transforming the lives of women who have never had the opportunity to have formal employment. We counsel their families, offer them the chance to visit our units and see for themselves the work environment and safety measures we take besides healthy and nutritious food, hygienic living conditions and a regular paycheck. We extend our initiatives beyond the premises of our units and focus on four major domains for community welfare namely Education, Healthcare, Rural Development and Women Empowerment. We have provided facilities like school buildings and necessary infrastructure to Government Schools; medical equipment and funds to hospitals, safe drinking water and sanitation to villages besides conducting sessions and programs on health, hygiene and other important issues like MHM.
Ecology and sustainability are two very common topics in the textile sector. What are your "green" activities for the environment?
The impact of the fashion industry is quite far-reaching and all industry stakeholders need to address environmental and social concerns to ensure Sustainable Development. At Vardhman, we continuously strive to lower our carbon footprint and be progressively responsible.
Sustainability is an integral parameter in all our business decisions, from ethical sourcing of raw material to reducing, reusing and recycling waste; from reducing consumption of freshwater to rejuvenating its sources and from decoupling growth from black energy to eliminating hazardous chemicals.
Major Green initiatives undertaken:
Water
52 rainwater harvesting systems with a capacity to recharge 1.75 million KL of water annually
9 STPs and 3 ETPs out of which two are fully functional Zero-liquid-discharge plants having a capacity of 8,800 KLD and 99% rate of water recovery with zero chemical treatment.
100% reuse of STP treated water in processing plant at Vardhman Fabrics
0.81 million KL of raw water saved by using treated sewage water for non-process activities
3.19 million KL of wastewater treated per year in our ETPs
36% of the treated water is recycled within our process
Partnership with GAP and ckinetics
Energy
29% savings in total energy consumption achieved at Vardhman Fabrics against the notified target of 5.77% under PAT-1
63,000 tons/year Carbon emission reduction achieved by Vardhman Fabrics
Periodic Energy Audits for continual improvement
10 units of Vardhman Group are registered in PAT Scheme and certified as E-cert
60 MW capacity of in-house Captive Power Plants at 3 locations
Utilizing alternate sources of energy – Solar power system and Biogas plants besides using husk in the boilers
Replaced sodium vapour lamps with LED lights
Planted 2.80 lac trees so far
Solid Waste
Responsible disposal of hazardous and non-hazardous waste to government authorised vendors
Increased re-use of High-Density Polyethylene Sheet (HDPE) in pallet packaging from 50% to 95% to reduce plastic consumption
Chemicals
Working with global bodies like CHEM-IQSM, ZDHC InCheck & Gateway, CleanChain, Clean by Design
Enhanced enzymatic desizing to replace chemical desizing
Eliminated Chlorite bleaching and opted for 100% Peroxide bleaching
You are one of the largest cotton yarn producers in India. How is this seasonal product obtained and processed?
We are one of the largest producers of cotton yarn in India because of our responsible sourcing mechanism for our raw material. Cotton is a seasonal crop but the process of procurement has to be planned in advance. We invest in projects like BCI, Organic Cotton, Fair Trade, etc. to promote cultivation practices which are best for the crop and thus the farmer. We are working with more than 13949 farmers from 80 villages under Project Pragati- BCI wherein we train the farmers on:
i. Integrated Nutrient Management
ii. Soil testing
iii. Water sampling
iv. Integrated Pest Management
v. Use of PPE
vi. Contamination control
vii. Water Stewardship
We majorly source three types of cotton – Organic, BCI and Recycled Cotton. A threefold protocol we follow is – Green inputs, Green Processes and Green Collaborations. We procure about a quarter of our total cotton from our own BCI project operational in Gujrat. We ensure that the cotton we procure is traceable to the farm. Consistency in quality is maintained by a series of check-points. Quality is a synonym to Vardhman and we leave no stone unturned to make sure this image sustains. The cotton from the farm is sent to our units in a quick and contamination restraining manner. The spinning of this cotton is done at the units. We not only have the largest spindle count in the country but also our processes are reinforced by most advanced technology. We process cotton yarn in different count range and blends.
Technological evolution in the textile sector is becoming faster and faster. How important is for you the integration between machines and man? Which are the most important innovations introduced in recent years?
The modern era is fast-paced and it is crucial for any industry to adapt to the changes at a similar pace. Since technology is developed by man and needs human intervention for smooth operations, it goes without saying that integration between machine and man is inevitable even in the current scenario. We constantly seek innovative technologies and product solutions and for the same, we have a dedicated Corporate Technology Cell to institutionalise technology selection, adoption and absorption processes. Advanced Technology that drives manufacturing at Vardhman:
Yarn
• Approx. 95% Ring frame capacity is with Auto doffing
• About 60% Capacity is with Linkconers
• USTER Vision Shield Magic Eye in all the Cotton lines for Contamination Control
• USTER Quantum-3 in all the Winding Positions
• All the Ring frame Production positions are equipped with Ring Data system
• Speed frame with Auto doffing and Roving Transportation System in all the recent expansions
• R&D lab equipped with advanced technology from USTER
Fabric
• World Class European automation in Greige Batch preparations
• Specialized Relaxed processing of Stretch fabrics
• Fully Automatic Colour and Chemical Dispensing
• Online Shade Measurement with Spectrophotometers
• Online Fabric Shrinkage control
• High-Speed low tension Processing machines with Salt less dyeing for Sustainability
• High Energy and water-efficient processes utilizing heat exchangers, recovery systems and Caustic recycling plants
• Fully equipped Dyeing and Quality assurance laboratory accredited from all major global brands
• Including mechanical and speciality finishes besides conventional soft and peach finishes like – Liquid ammonia finish (LA finish), Airo finish, Anti-microbial finish, Teflon finish, Oil and water repellent finish, Bio magica finish (combination of peach+Airo), Enzyme finish and Bio-polishing.
Vardhman Group exports worldwide today. Which are the most important countries and markets for you?
We are serving large businesses across USA, Europe, Asia and several emerging markets. We are producing yarn and fabric for both tops and bottoms in the apparel segment. With the largest installed spinning capacity in India of 1.1 million spindles, we are the market leaders in hand-knitting yarns and leading manufacturer of cotton yarn and fabric. We have a strong export presence in more than 75 countries across the globe.
Vardhman Group, besides being a leading company in the textile sector, is also one of the major steel producers for many industries (for example the automotive ones). How important is this business area for you?
Steel is altogether a different avenue as compared to textile but we work towards establishing Vardhman as a world-class producer of steel in the Special and Alloy Steel industries segment. Steel business has walked hand-in-hand with Vardhman Textiles since 1973. We cater to diverse requirements of automotive, engineering, bearing and allied industries. Starting with an initial capacity to produce 50,000 metric tons of special and alloy steels, Vardhman Special Steels today has a manufacturing and rolling mill capacity of over 2,00,000 tons per annum each. During his journey of 45 years, we have always looked forward to joint ventures with the finest of industry experts and Japan has been a friend beside an alliance for technological advancements. We have expanded our production capacities, modified our manufacturing units and adapted the market needs with agility. We have recently collaborated with AICHI steel, an affiliate of Japan's Toyota Motor Corporation to put VSSL on a much stronger platform.
In addition to focusing on quality, you are also very strict in terms of controls. How long does the testing phase last and what does it consist of?
Vardhman Group has always believed in the power of future vision and long-term actions. Ethics in practice and innovation in the process have been part of our ethos since inception. Vardhman is the preferred partner for some of the world's most progressive and prestigious organisations owing to our consistent performance and surpassing exacting standards. Every process has its own check-point inside our units. Multiple levels of inspections and standardisation are fundamental to maintaining control and quality.
One last question that we make to all the textile entrepreneurs and managers interviewed all over the world: what are the strengths and weaknesses of the current textile world? What are – compared to the past – new problems and new opportunities?
Internationally, the Textile world is undergoing a major change. The demand patterns and consumer preferences have always been dynamic but now the pace at which this change happens is faster than ever, with the millennials becoming a greater force. Secondly, there are more avenues and choices available with the people. The direction in which the consumer spends is also changing with the larger share being spent on mobiles/holidays/experiences rather than on clothing. Another major change is the retail demography. The competition between online and brick & mortar is rapidly rising. The speed of delivery has also enhanced, which in turn, is putting a lot of pressure on the supply chain. Consequentially, we need to be quick and quicker with each passing day to withstand these strong forces.
The typical cycle of  "concept to store" is reduced from 20 weeks to 12 weeks. Hence, the production processes and logistics also need to be faster. This is a challenge as well as opportunity. Sustainability is also a major decisive factor these days. From raw materials to manufacturing processes, everywhere we are seeing the scope to consciously make textile industry flourish with sustainable options. In times like this, only the faster, agile and nimble companies can win.